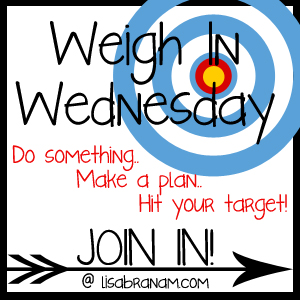 It's Weigh in Wednesday again.  I didn't post last week because frankly I totally forgot.  We spend last Wednesday grocery shopping and baking for Thanksgiving. Don't forget to join the Weigh in Wednesday Facebook group.
If you haven't already started now is the time!. Our short term goals need to be tangible. Feel better or be healthy are too vague. Be specific. Your short term goals should help you reach your long term goal. These can be changed and modified.
                Short Term Mini Goal                                                  Long Term Goal
Health Track all food for Weight Watchers/ gym 3 days/wk       Wear a size 6 again
Work Create and maintain a schedule                         Grow my blog into business
Family Have screen free time                           Spend more focused time w/ family
So, how are things going?:
Health: By next Wednesday my Whole 30 Challenge will be over.  It surprisingly hasn't been that difficult.  Now that isn't to say that there weren't some hard days but overall it's been pretty easy and I think I'll stick with many of the changes I made.  I even made it thorough Thanksgiving by bringing deviled eggs with homemade mayo, cauliflower "mashed potatoes", olives and green beans so that I would have something other than just turkey to eat.  I'm definitely going to get some tiramisu when this is all over and I already have plans with a friend to visit the new In n Out an hour or so away.  I also bought some fabulous new (affiliate link) Brooks Women's PureCadence 2 Lightweight Running Shoes. Now I can run with out my foot moving since with this weight loss I've lost a shoe size!

Work: As you can tell from this Weigh in Wednesday post coming to you at 7pm I still haven't got this whole schedule thing figured out.
Family: We've spent a lo;t of time playing this week. The house we had Thanksgiving at had to TV which was nice because it forced us to talk with everyone and not just stare at the TV.  Thanksgiving was spent with with friends and a few Air Force trainees that we hosted for the holiday.
Continue the conversation by following me on Facebook and Twitter.
So, how are you doing?

Have a post about reaching your goals? Link up with us. All I ask in return is that you put the button or link to this post on your site.

<a href="http://lisabranam.com/category/weigh-in-wednesday" target="_blank"><img src=" http://lisabranam.com/weigh in wednesday 150 button.jpg" alt="WeighInWednesday" width="125″ height="125″ /></a>