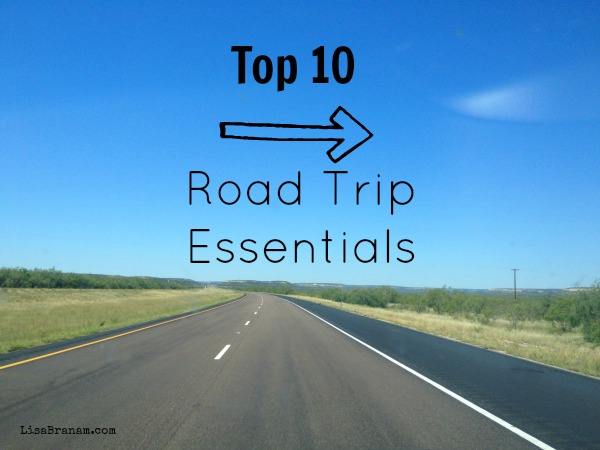 Summer's coming and for many of you that means it's time for a family road trip.  Don't be afraid.  Road trips don't have to mean fighting, whining and cruddy food.  I've compiled my top 10 road trip essentials to make your trip more fun for everyone.
With most of our family in California and us in Texas road trips are a common occurrence.  We fly a lot but have done more than our share of driving cross country.  We've driven just as a couple, with a kid, with a dog, and with extended family.  Most of our road trips are about getting somewhere.  We don't often stop to see sites along the way but even if your family makes frequent stops my road trip essentials will make your trip more pleasant.
Pack twice as many snacks as you think you need.  There is no such thing as too many snacks when you are traveling.  The last thing you want to do is have to buy snacks from a gas station. Pop some popcorn before you leave home and keep it in big ziplock bags. Other good snacks are a bag of apples, a bunch of bananas, granola bars, lara bars, nuts,  and applesauce pouches
Water.  Even though you are only sitting it's easy to get dehydrated. Bring reusable water bottles and store bought bottled water. You may have to pee more often but everyone will feel better.  Which brings us to number 3.
Pee every time you stop for gas.  No "I don't have to go" allowed.  If you stop the car everyone need to try and pee. This will stop most of the unplanned potty breaks and kids peeing on the side of the road.  I realize this means you will have to take your kids in a convenience store but be strong and buy nothing.
Electronics with headphones. Even if your family loves to talk at some point everyone needs some alone time.  This is where the electronics come in.  Personally, I get car sick if I read or look down at something but Little Man loves to play on his Kindle or daddy's iPad on road trips.  Don't start with the electronics out if you are going on a long trip.  Spend some time enjoying the ride then when arguments or boredom strike bust out the electronics.  Remember your car charger!
Podcasts or audio books.  Since I can't look down in the car as a passenger or am often driving podcasts and audio books are my entertainment.  When you are in the middle of nowhere with no radio reception or you've heard the same song 20 times in and hour you'll thank me. You can even get an audio book the whole family will enjoy.
Plastic grocery bags for trash.  Keep several of these.  There will be trash and you don't want it on the floor of your car.
An easily accessible change of clothes for everyone.  You never know what's going to happen and you don't want to be unpacking your trunk or roof when your kid is covered in who knows what.
Toys for the kids- I let my son take a small backpack with whatever toys he wants.
Dramamine.  I get motion sick, so as the passenger I take this before I even leave.  You never know then the ride might become too much and someone's stomach starts to turn.  Better safe than sorry.
Pillows and blankets. Sleeping in the car is a lot easier when you can lean our head on a pillow.  Blankets are good for staying warm , keeping the sun off you during the day, and covering our head so the night lights aren't so distraction.
What are your road trip essentials?