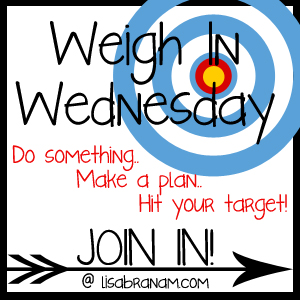 Welcome back to Weigh in Wednesday!  I'm glad to have you here as we work on reaching out goals in health, work and family.
Our short term goals need to be tangible. Feel better or be healthy are too vague. Be specific. Your short term goals should help you reach your long term goal. These can be changed and modified.
                      Short Term Mini Goal                                    Long Term Goal
Health Track all food for Weight Watchers/ gym 3 days/wk  Wear a size 6 again
Work Write at least 4 posts/wk                        Grow my blog into business
Family Read with Little Man for 30 min/day    Spend more focused time w/ family
So, how are things going?:
Health: The new smaller clothes I bought a few weeks ago are fitting great!  I've been faithfully tracking everything I eat for the last two and a half weeks!  It's really easy to not track my food but I know from past experiences that it's the only way I'm able to loose weight.  I've also been doing great at going to the gym or running at home.  I think a lot of it has to do with my activity monitor.  I want to get to my goal each day.  It's amazing what can happen just by setting a goal!

Work: This has been a great week for this blog!  Now I just need to focus on getting both of my blogs going well at the same time.  It can be such a balancing act.
Family: This week hasn't been so good for book reading.  More than a few times I've told Little Man no bed time story tonight.  Okay kick in the butt we are going to become better readers.  Little Man loves when we read and I don't really know what's keeping us from doing it more.
PS if you are on Weight Watchers online my username is MommaBranam. Hit me up and we will motivate each other!
Continue the conversation by following me on Facebook and Twitter.
How are you doing reaching your goals?

Have a post about reaching your goals? Link up with us. All I ask in return is that you put the button or link to this post on your site.

<a href="http://lisabranam.com/category/weigh-in-wednesday" target="_blank"><img src=" http://lisabranam.com/weigh in wednesday 150 button.jpg" alt="WeighInWednesday" width="125″ height="125″ /></a>