You may have noticed I've been gone.  Or maybe you didn't but either way I thought I'd share what I did when I wasn't here.  In June I spent two weeks in California visiting family, Legoland, and California Adventure.  We had a blast.  Then we came home to two weeks of swim lessons and getting back to normal life, whatever that is.  A week later we packed or bags again for the longest 8 day trip ever.  I'm sure getting glutened when we were less than an hour from home didn't help with the feeling of being gone.  It's been 6 days and I'm starting to feel normal.
Before we left I followed my top ten road trip essentials and tips for flying with a preschooler. So here's my trip in pictures, after all they say a picture is worth a thousand words.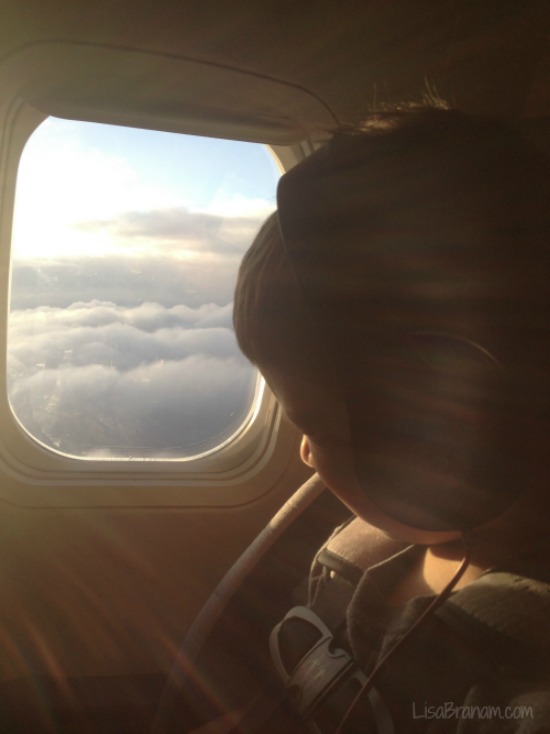 Little Man loves to fly, which is great since we started out this adventure with a three leg plane trip. My sister in law flew with us but she wasn't feeling well.  This meant I had two full size suitcases to check in and cart around, plus my backpack, Little Man's suitcase, his backpack, and his car seat. Lets just say it was a lot of junk and I now know why people rent those luggage carts.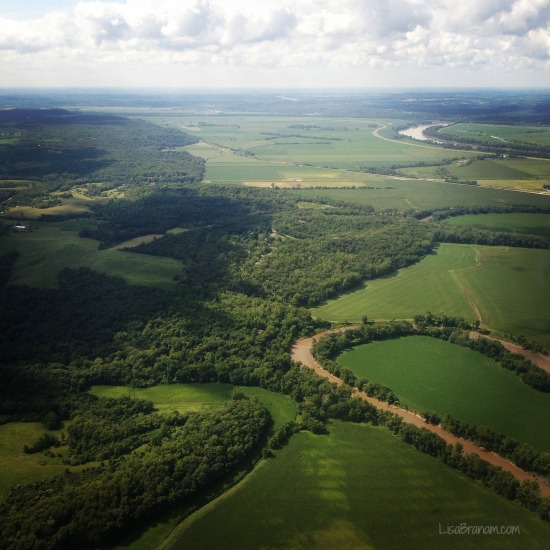 We had to change planes in Dallas then land in Kansas City for a few people to get off and a few more to get on.  The photo above is the beautiful, minus the whole brown river thing, Kansas City.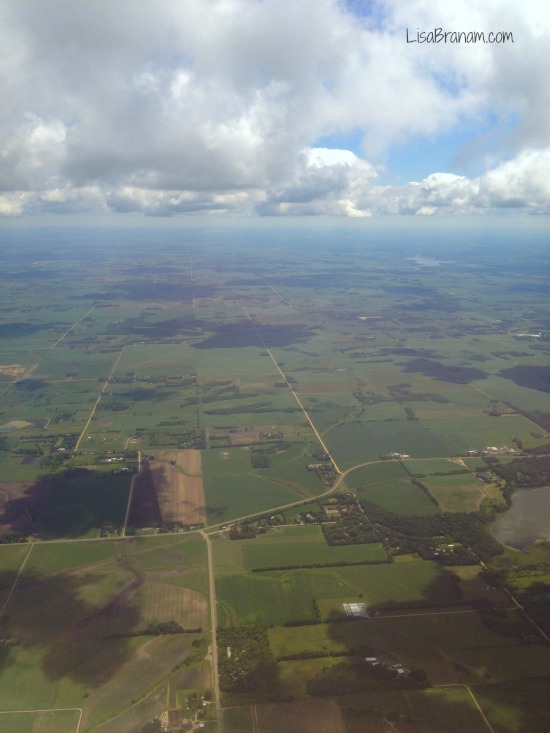 Eventually we arrived in Minnesota!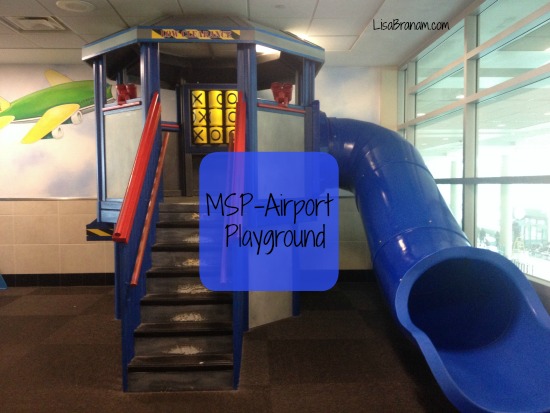 How cool is this play ground at the MSP airport?  We stopped to let Little Man Play before getting our baggage and rental car.  We then headed to the Mall of America to meet a childhood friend of mine for lunch.  We also had time to kill until our other family arrived.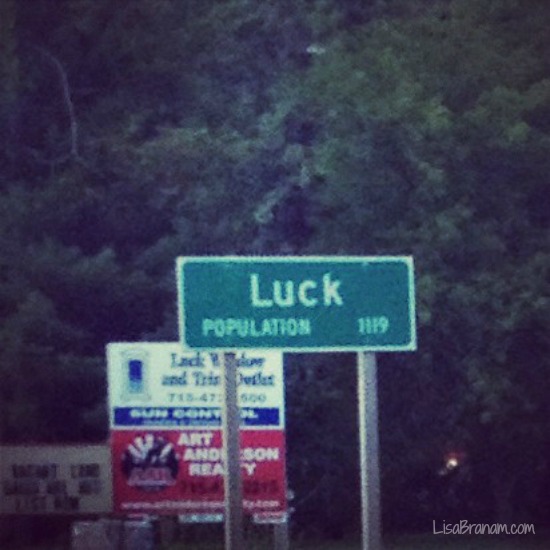 Little Man and I took a two day side trip to Luck, Wisconsin.  It was beautiful.  My grandmother grew up there and I hadn't been back since a family reunion when I was 7.  Not much has changed.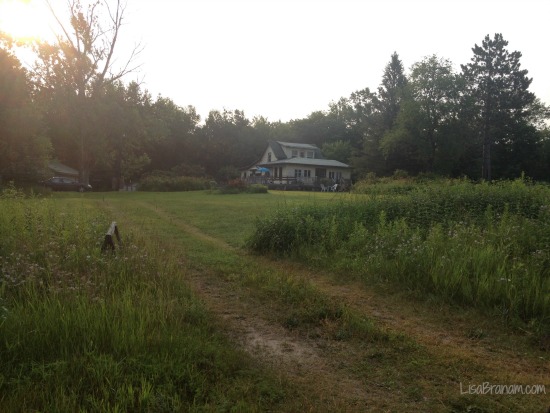 This is the farmhouse where my grandmother grew up.  The whole right side, front on this picture, is an addition.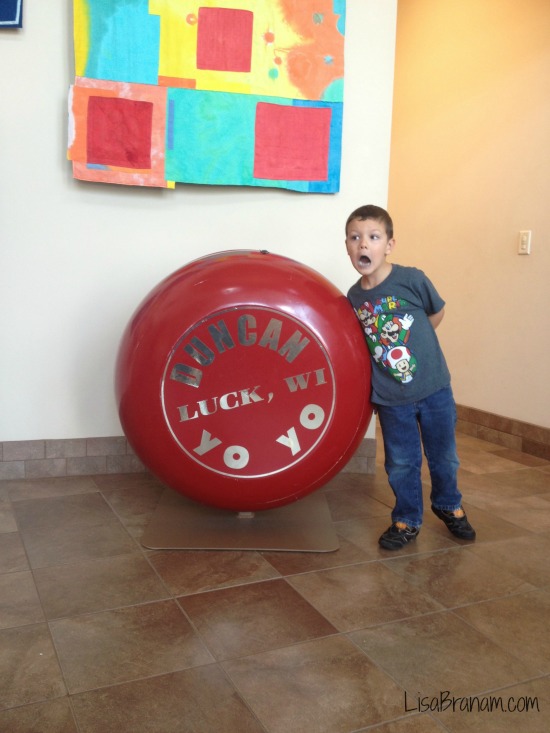 Little Man and I checked out the sites in Luck, including a cafe with gluten free bread, ice cream at the pharmacy, and the historical museum where my second cousin works.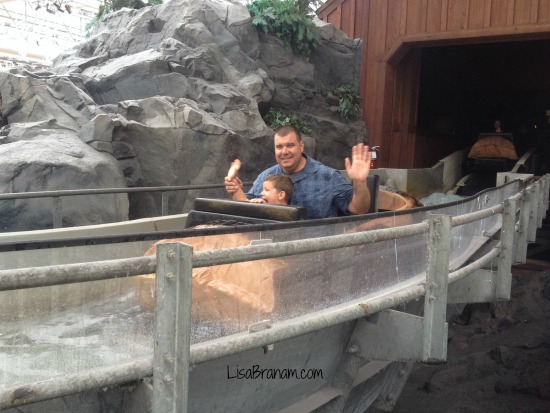 We headed back early Friday morning to pick up Ben from the airport. Little Man was dying to go on the log ride at Mall of America so Ben went with him, twice.  What a good dad.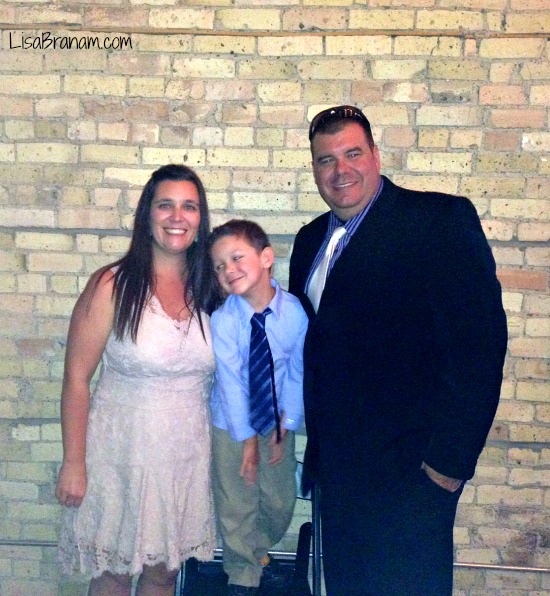 We couldn't stay long at the mall since we needed to get to a wedding that afternoon.  Since the wedding was the whole purpose for our trip we couldn't be late!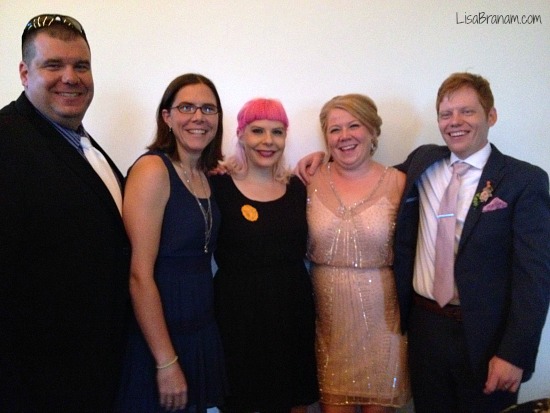 Here's Ben, his sisters and cousin.  Jimmy on the right was the one getting married. I completely failed to get a picture of his beautiful new bride.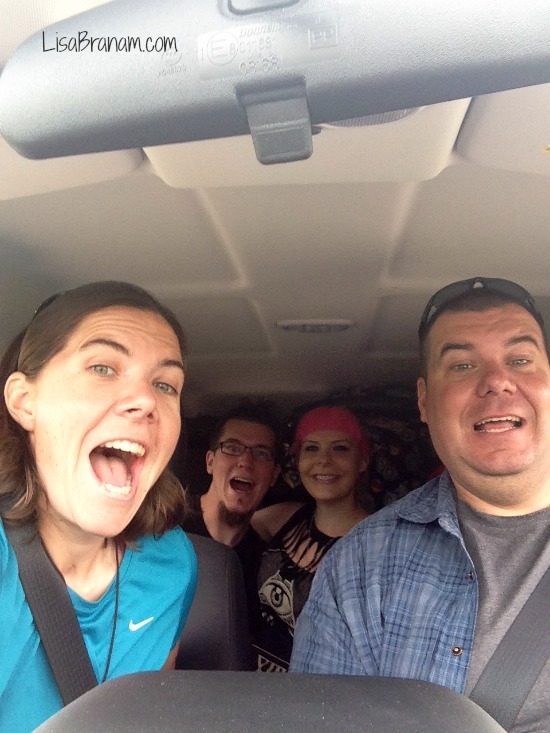 The next morning we squished into two tiny cars with all of our junk for a 3 hour car trip to an uncles farm. My sister in law texted me this road trip selfie.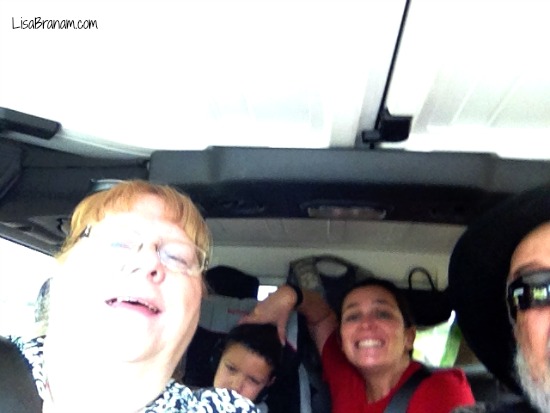 Of course we had to take one to send back!  I had to teach my mother in law to take a selfie but I'd say it came out pretty good for her first one.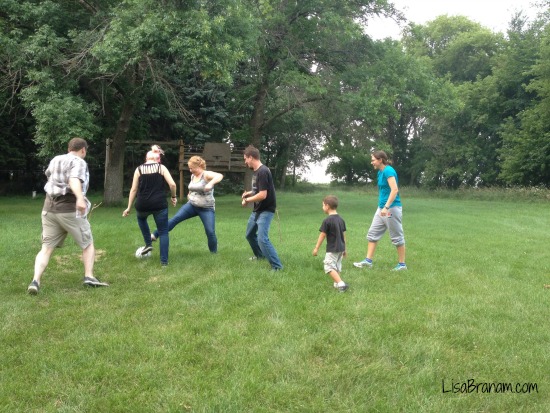 After being squished in a car we all needed to move so the "kids" played a game of soccer.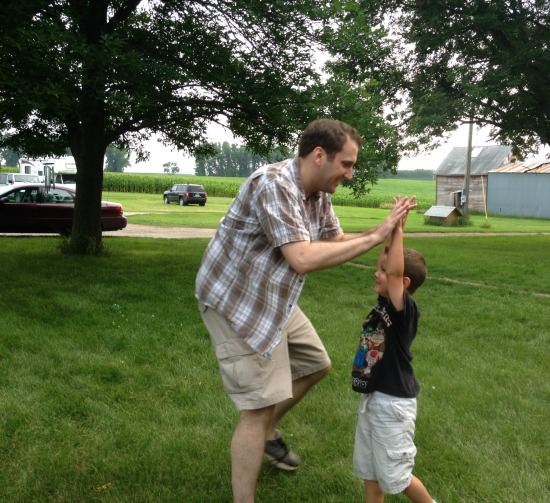 Little Man obviously had a great time.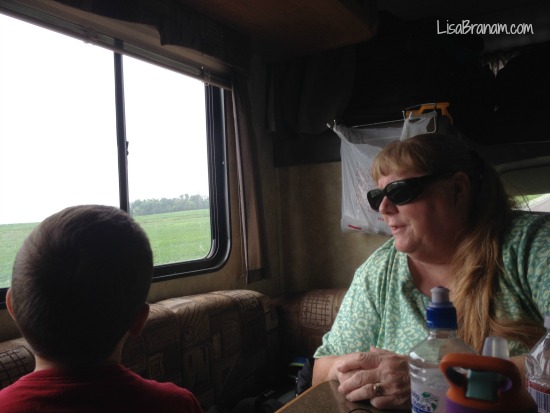 The next day Little Man, Ben and I headed home with my in laws in their RV.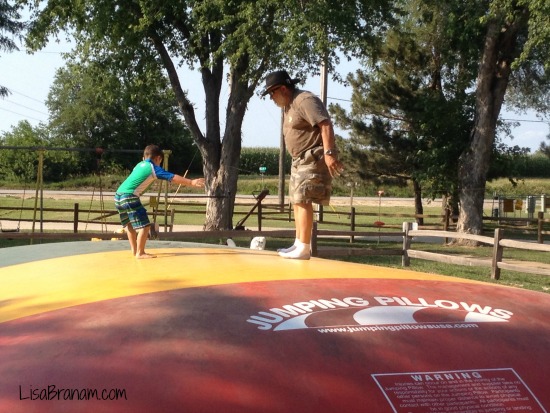 We stayed one night at an awesome KOA in Nebraska.  Side note: Nebraska makes me think of corn, huskies, and Aunt Becky from Full House.  Is that weird?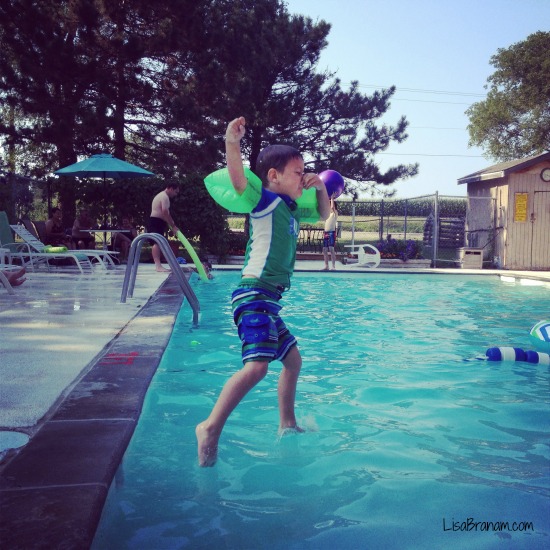 Little Man loved the pool even though I couldn't find his goggles.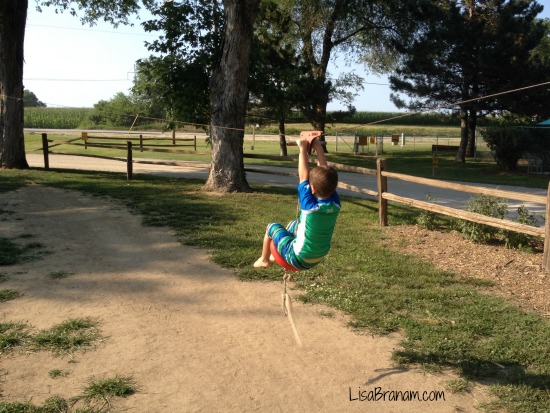 The coolest part was this zip line.  We spent a good 30 min going round and round.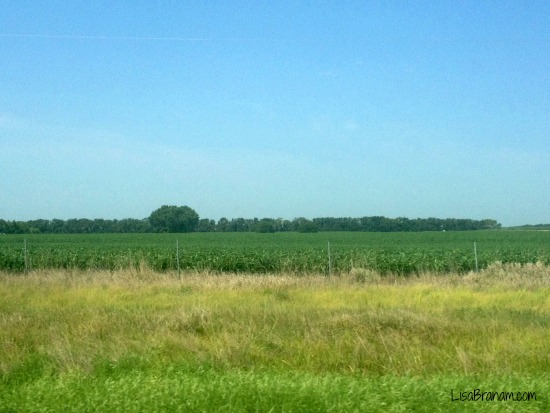 If you follow me on Instagram, @mommbranam, you'll know we saw corn, corn and more corn.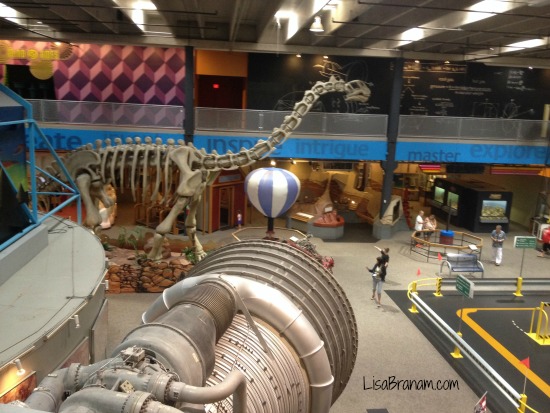 My mother in law planned for us to stop at the Science Museum of Oklahoma.  It was incredible. Too bad we don't have anything like it in San Antonio!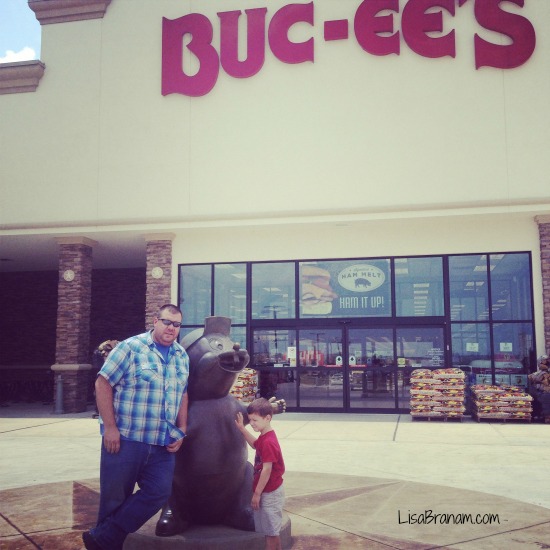 Finally we made to to Buc-ee's.  If you've been there You'll understand why it's a necessity of any road trip.  if you haven't been there and you see one one your drive, stop and go in.  You won't regret it. unfortunately I learned the hard way that their amazing potato chips are fried with many breaded items and I got glutened. Yuck. Coming home with a migraine was not the best ending to our trip. Overall it was a fabulous trip trough seven states. Little Man is getting to see quite a bit of American and he's only 5!