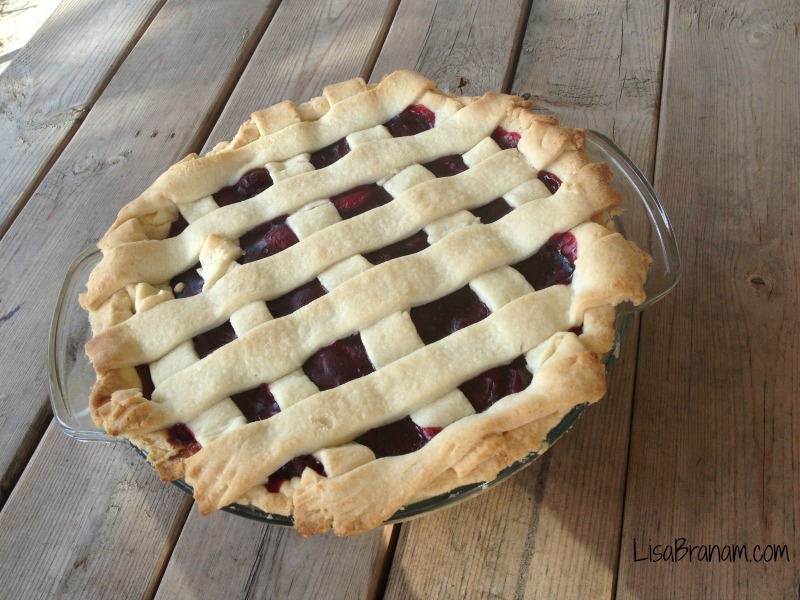 For months Little Man has been begging me to buy in fresh cherries at the grocery store.  Since in the off season cherries are around $6 a pound I've been saying no over and over again. Now that it's summer cherries have been on sale for less than $2 a pound. We've been buying, and eating, more than our share of fresh cherries this summer.  So, when it came time to make a dessert for our small group I decided gluten free cherry pie was the answer.  Now I've never made cherry pie and I've never made a gluten free pie crust but it turned out amazing. Since there was no pie left and at the end of the evening I'm guessing our guests loved my gluten free cherry pie too.
Since I'm still new to gluten free baking I used (affiliate link) Bob's Red Mill Pie Crust Mix.  Whether you are gluten free or not this pie crust is fabulous.  Its light, flaky, delicious and simple to make.  You are welcome to use your favorite pie crust recipe if you don't want to use Bob's Red Mill. Make and refrigerate the crust before you deal with the cherries.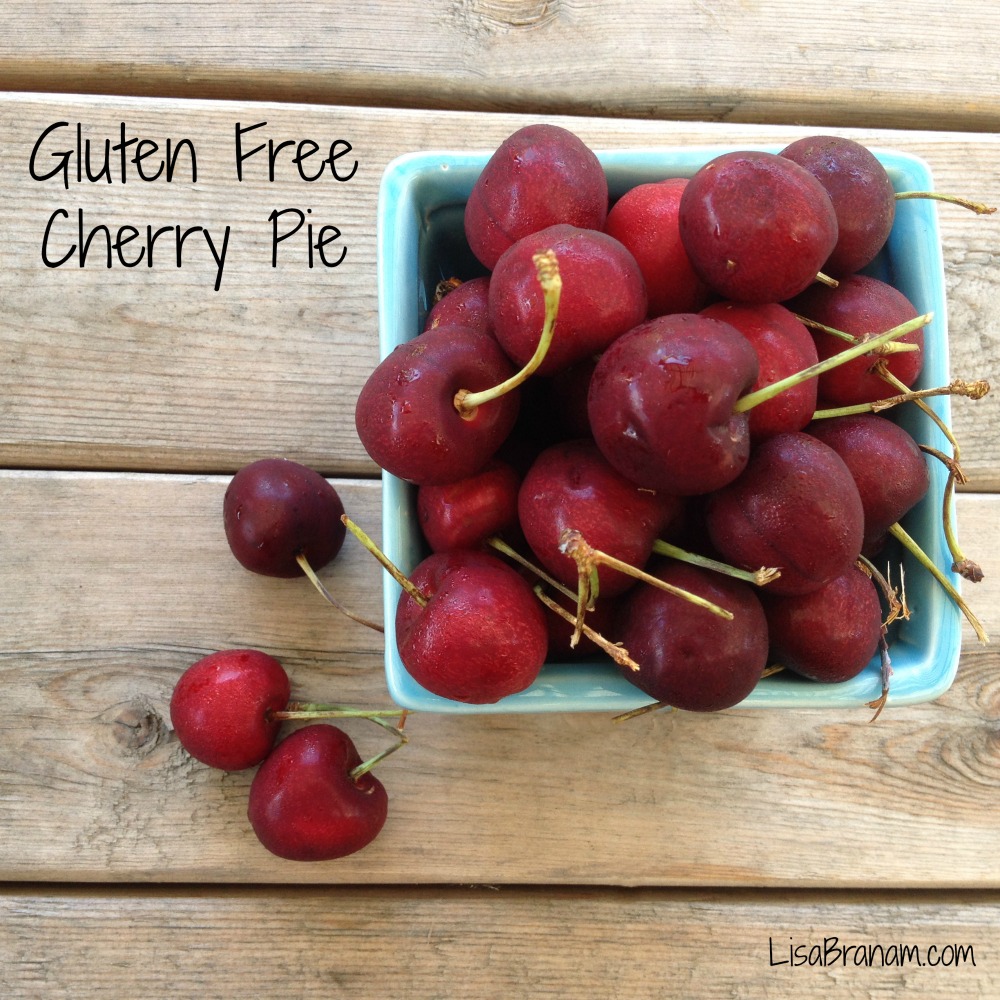 Start with 3 pounds of fresh cherries. Don't they look amazing?  It's okay to eat a few along the way, I won't tell.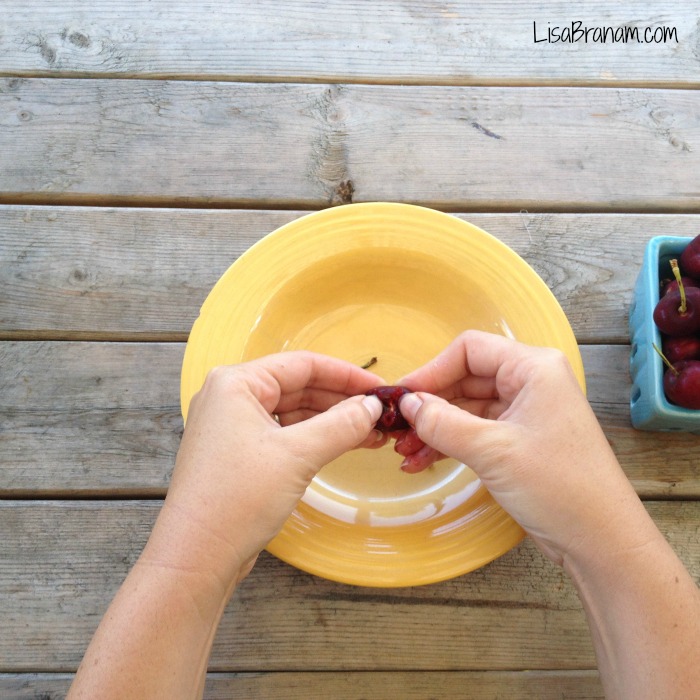 Now it's time to pit the cherries. If you don't have a cherry pitter this can get a little messy. Since I've never made cherry pie I don't have a pitter and had to remove all the pits by hand.  I tried cutting the cherries and a few other ways but in the end breaking the cherries open with my hands and was the easiest method. a tossed the pitted cherries straight into the pot I would be cooking them in.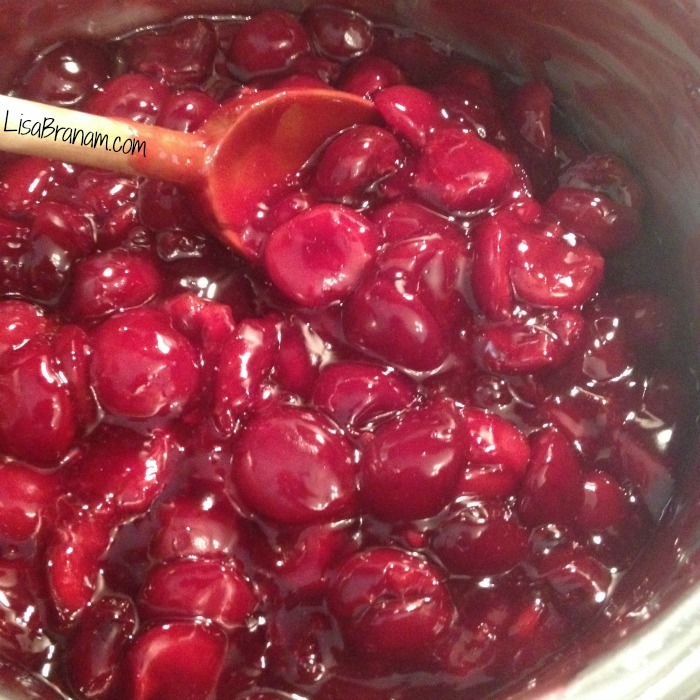 Add sugar, lemon juice, corn starch, water and almond extract to the cherries.  Bring to a boil then simmer for about 10 minutes until they cherries are soft and the juice has gelled.  I'm not going to lie, I ate a few spoonfuls of the cherry pie filling while it was cooking.  It was hard to control myself; lets just say I was taste testing.
Let the cherry pie filling cool while you roll out the crust.  Since the filling doesn't really need to cook I chose to bake the bottom alone for crust for 15 minutes. Before filling the pie and baking it.
Gluten Free Cherry Pie Recipe
Ingredients
Pie Crust for a 2 Crust Pie
3 lbs Fresh Cherries
2/3 Cup Sugar
1 teaspoon Almond Extract
2-3 Tablespoons Corn Starch
Juice of 1 small Lemon
½- ¾ Cup Water (start with less and add more if needed)
What to Do
Make the pie crust according to package directions and refrigerate.
Preheat oven to 425
Remove the stems and pits from the cherries either with a cherry pitter or using your hands. Place pitted cherries in a medium pot.
Roll out the bottom crust between parchment paper and place in a 9 inch pie pan. Poke with a fork several times and bake 15 minutes.
Add everything to the pot and bring to a boil, stirring occasionally. Lower to a simmer and cook 10 minutes, until the cherries are soft and the liquid has gelled.
Set cherries aside and roll out the top crust. I made a sort of lattice crust but a solid one works fine too.
Bake 15 minutes.
Let cool as long as you can stand it then enjoy!
http://lisabranam.com/2014/07/gluten-free-cherry-pie-recipe.html